For our St. Patrick's Day brunch, we HAD to have green pancakes. And I wasn't crazy about dumping a bottle of green food coloring in the batter, so I did what any reasonable mother would do--I threw in a bunch of spinach! (Cue evil laughter.)


My sweet two year old who won't eat a vegetable that's green GOBBLED these up. They are delicious and I promise, you can't taste the spinach!
Natural Green St. Patrick's Day Pancakes
(Adapted from AllRecipes)


1 1/2 cup milk
1/4 cup vinegar
2 cup flour
1/4 cup sugar
2 tsp baking powder
1 tsp baking soda
1 tsp salt
2 eggs
1/4 cup butter, melted
handful of spinach
chocolate chips (optional)
cooking spray
1. Combine milk and vinegar. Let rest 5 minutes. This is essentially making buttermilk.
2. Blend milk & vinegar mixture with spinach--adding spinach until you get the desired shade of green.
3. Combine flour, sugar, baking powder, baking soda and salt in a large bowl.
4. Whisk buttermilk, eggs and melted butter in a separate bowl. Once whisked, combine with the dry mixture and mix until all lumps are gone.
5. Use cooking spray to coat griddle or pan on medium heat. Pour 1/4 cup batter onto griddle and cook until top starts to bubble. If adding chocolate chips, sprinkle them on before flipping.
6. Flip and cook on the other side until done. (If you want to avoid browning the top, cook on a lower temperature for longer without flipping.)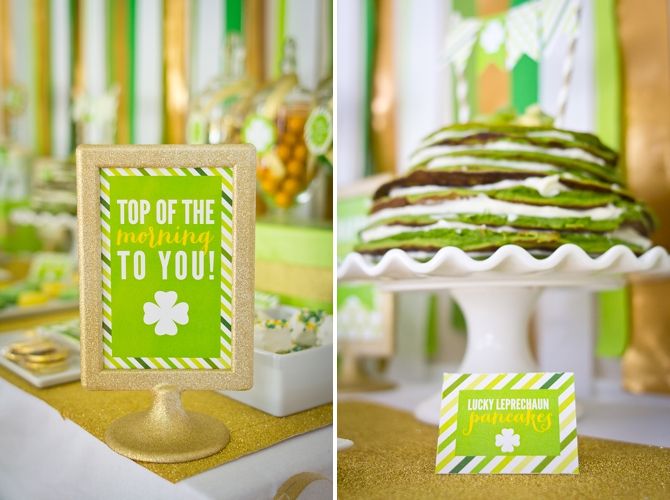 Since we were eating a reasonable amount of spinach, I felt like we earned some frosting, so I layered in some cream cheese frosting and did not feel bad about it at all. Not. At. All.
All of the decorations are
available for download here
! To say thanks, we'd love it if you'd
like us on Facebook
or pin an image to share the love (or luck!) with your friends.